back
4D Light Show at the Bund
Since 2012, on December 31 of each year, the 4D light show held at the Shanghai Customs House and Shanghai Pudong Development Bank Building at the Bund attracted hundreds of thousands of visitors, despite the cold weather. It is an unparalleled visual feast for them to enjoy the combination of elegant projection, physical props and virtual lights with dazzling fireworks. In recent years, the 4D light show at the Bund has been acclaimed as a landmark event, with world's major media like CNN in America, BBC in Britain, and NHK in Japan lost no time in their coverage of it.

As the creativity, design and production team of the Light Show at the Bund, the Motion Magic Digital Entertainment Inc. worked in close co-operation with the organizers and completed all the design and production from 2012 to 2015, setting up a number of national records of the 4D light show in China.
Firstly, the biggest projected area. With a length of 146 meters, a height of 76 meters, and the image resolution over 8K, the projected area included the Shanghai Customs House and Shanghai Pudong Development Bank Building, equivalent to the size of four IMX theaters.
Secondly, the largest number of projector lamps at the same time. The project uses eight sets of 52 professional projector lamps of 30,000 lumens.
Thirdly, the largest audience. There were over 300 thousand viewers each year and the number has been going up recently.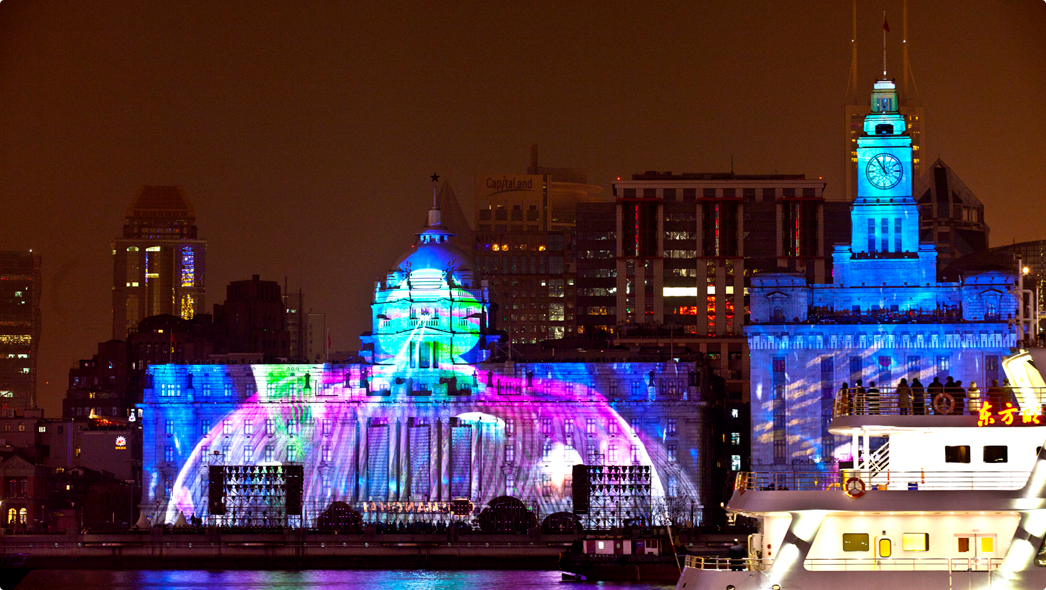 The "2014 Shanghai New Year Countdown 4D Light Show at the Bund" was awarded the Outstanding Literary Arts Program and the Best Literary Arts Program Art Direction of the 27th China TV Golden Eagle Award, which is the only national Television Arts Award approved by the government and voted by nationwide audience.